22 Oct 2019

9:43 AM
Mark Boothman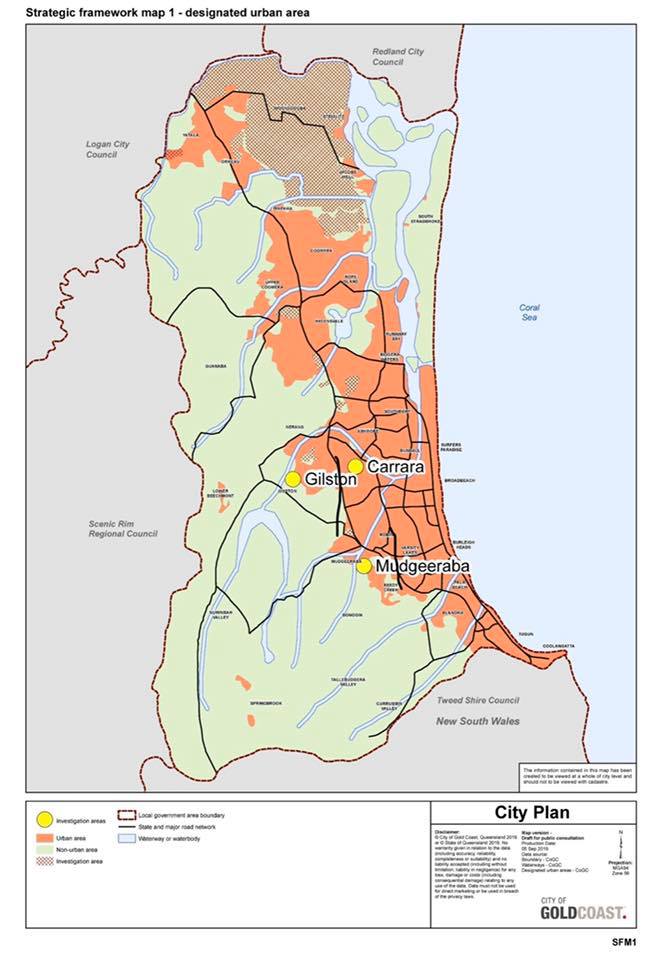 Gold Coast City Council are looking to update their planning scheme maps.
"Urban expansion - Upper Coomera investigation area"
"City Plan identifies investigation areas which will be investigated for land use opportunities and constraints to determine if there is potential to accommodate new housing and/or employment opportunities. This will assist the City to meet employment and dwelling targets imposed by the State Government South East Queensland Regional Plan.
"In consultation with property owners, the Upper Coomera Investigation area of Courtney Drive has now been appropriately planned to accommodate a new community which balances residential opportunities with planning for recreation open space and wildlife. The planning for this Investigation area has examined where the best locations are for different intensities of housing and how to restore a wildlife corridor along Yaun Creek."
"Given its potential urban development opportunities, to ensure that the future development of this investigation area is well managed, it is proposed that the Upper Coomera (Courtney Drive) Investigation area be rezoned as part of the Emerging community zone with special precinct provisions. An amendment to the Local Government Infrastructure Plan is under development to include the investigation area in the Priority Infrastructure Area."
Follow the link below for more information or to make comment. Submissions must be made during our public consultation period from 8am 27 September 2019 to 5pm 11 November 2019.
Click on the link for more information.
https://bit.ly/2OXaNwb
The map below shows investigation areas. A better map is on the website link above.