20 Sep 2017

9:25 AM
Mark Boothman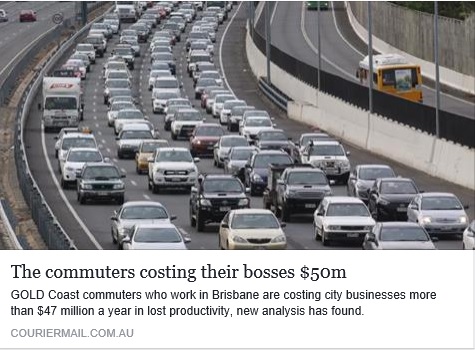 Every time we have an accident on the M1 Motorway, the traffic network goes into meltdown. The Motorway was built to handle 162,000 per day. In 2016 the Motorway has reached 152,177 cars per day. Continue reading for the full article.
Click here to sign the SecondM1 petition
Brisbane traffic: Gold Coast workers cost $47m a year
THE gruelling daily commute between the Gold Coast and Brisbane is taking a $47 million toll on workers, a new analysis has found.
An average of 41,000 workers travel to and from the capital city from the ­region for work, spending ­almost three hours a day ­behind the wheel on the M1, or on the train.
The Pacific Motorway is the scene of frequent accidents that further impact productivity.
"Based on the average commuting time for employees travelling to and from the Gold Coast in a single direction, the Chamber deduces employees spend a total of 598 hours across the working year commuting to and from the Gold Coast," Chamber of Commerce and Industry Queensland advocacy general manager Kate Whittle said. "If we broaden this, employees that commute to and from the Gold Coast spend 80 work days or 16 work weeks commuting annually."
On the average weekly ­salary of $1150, this equates to $47.2 million in wasted time each year. CCIQ said there was an impact on business too, with people who travel for less than half an hour gaining an extra week in productive time a year, over those who commute for an hour or over.
Health experts say a long commute impacts on employee health and motivation.
"Time scarcity can also add to the overall stress burden of employees, and long commutes can result in compromised physical and mental wellbeing," Ms Whittle said.
The Civil Contractors Federation yesterday joined the call for a second M1.
Traffic congestion costs tens of millions in lost productivity.
"A second M1 will improve safety for the thousands of motorists who commute daily to and from the Gold Coast," a spokesman said.
A duplicated freeway would also "increase tourism due to easier access to the major tourist attractions".
The M1 travelling southbound was brought to a screaming halt after a crash at Rochedale South just last Friday morning, with some motorists reporting they moved a kilometre in 90 minutes.
The number of commuters is set to skyrocket over the next two decades with the Coast residents working in Brisbane predicted to increase from 22,000 in 2010-11 to 45,000 in 2040-41, according to the Cross River Rail business case.
"If Queensland wants to have a thriving economy that delivers prosperity to all communities, than the current impasse regarding the M1 must be resolved," Ms Whittle said