16 May 2016

1:46 PM
Mark Boothman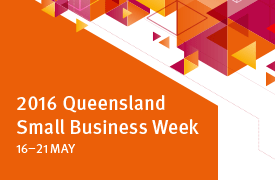 This week is Queensland Small Business Week. An initiative started by the LNP Government.
Small Business plays such an important role in our community. It is the bedrock of the local economy, providing 1000's of jobs and opportunities. Every dollar you spend locally at a small business greatly benefits our community.
Queensland's approximately 405,000 small businesses (those employing less than 20 people) are at the core of every industry sector. They are in every community in every region, represent over 97% of businesses statewide, and employ approximately 43% of all private sector workers.
Small businesses complement the economic activity of large organisations by providing them with goods and services, and make up the backbone of the supply chains of larger projects. They power regional development and are the gateway through which many people enter the economy.
2016 Queensland Small Business Week will be focusing on helping small businesses connect with new ideas and get ready for market and digital change.