New John Muntz Bridge
$15 Million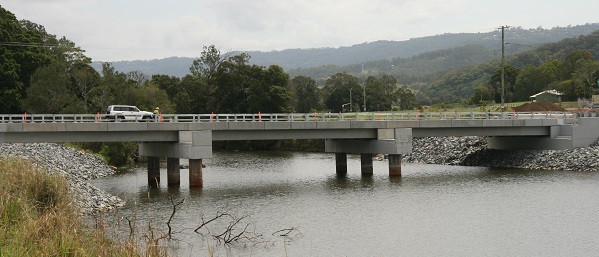 New bridge at John Muntz Causeway
Oxenford and Upper Coomera residents were the big winners in early 2012 with savings from the Transport and Main Roads budget funding the construction of a new bridge over the Coomera River to replace the John Muntz Causeway.
I announced tenders were now open for the new bridge, which replaced the old causeway extensively damaged by flooding in 2010 and again in early 2012.
Work on a design for the new bridge commenced in April 2012 after the causeway was structurally damaged and considered beyond repair.
The Government has investigated whether the causeway could be repaired to provide an interim solution.
These investigations concluded it would be unsafe to re-open both lanes of the causeway and a new crossing was required for the Tamborine–Oxenford Road over the Coomera River.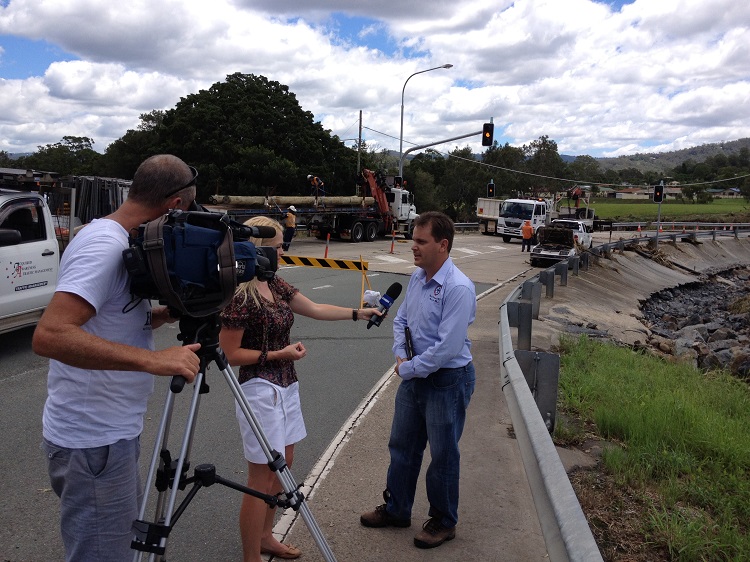 The LNP Government understood the importance of the Tamborine–Oxenford Road to the economy of the Gold Coast Hinterland, and decided to will work flat out to deliver the bridge next year.
Myself along with the LNP Government were committed to implementing cost-effective programs that deliver better infrastructure and better planning.
Design work for the project included improvements to the Tamborine–Oxenford Road and Oxenford–Coomera Gorge Road (Maudsland Road) intersection.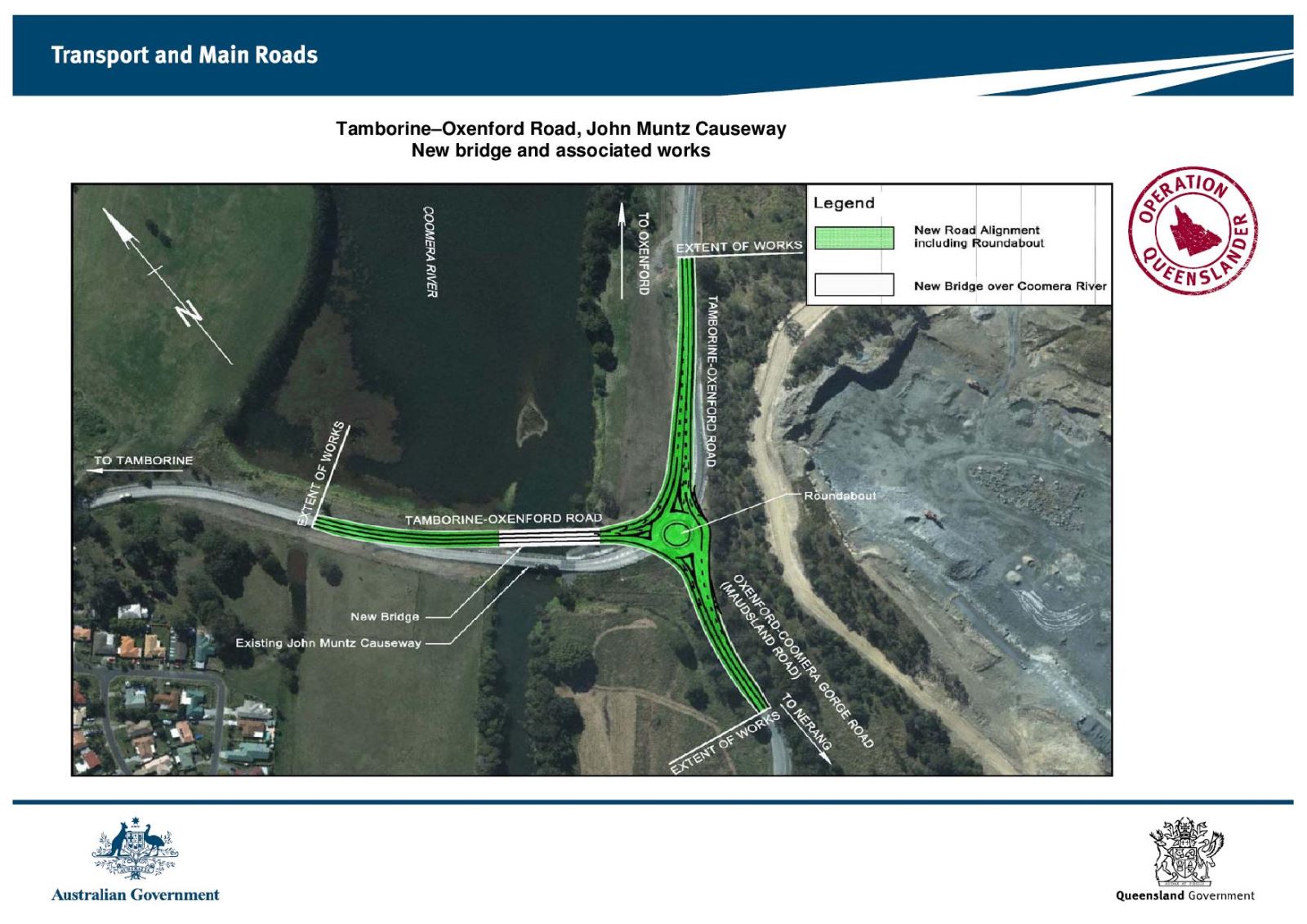 National Disaster Relief and Recovery Arrangements (NDRRA) provided funding for reinstatement of damaged infrastructure, with TMR required to find funds to meet the gap between the cost of replacing the culvert structures under the causeway and the cost of a new bridge.
NDRRA was expected to provide just over half of the funding of required, with TMR finding the required balance.
The request for tenders for construction of the bridge and intersection was called and the new bridge began to gather momentum.
I was pleased to advise that work was to start in mid-March 2013 on construction of the new bridge and associated works to replace the John Muntz Causeway.

These works were expected to be completed in early 2014, site and weather conditions permitting.

This package of works involved:
- Construction of a two lane three span bridge 60metres long, immediately downstream of the existing causeway with tie ins to the Tamborine –Oxenford Road
- Upgrading the existing intersection of Tamborine–Oxenford Road and Oxenford Road–Coomera Gorge Road (Maudsland Road) with a roundabout
- Realignment of the Tamborine–Oxenford Road and Oxenford Road–Coomera Gorge Roads (Maudsland Road) to accommodate the new roundabout and bridge
- Relocation of an existing water main under the bridge
- Removal of the old causeway.
So work began and at around 5pm on November 22nd 2013 the bridge was opened to two lanes of traffic and it has not missed a beat since.
Video footage of the old bridge under water January 2013